Sudden Impact I - 1967 Chevy Camaro
Brian's 1967 Camaro has been in the family since Ray first purchased it in 1984.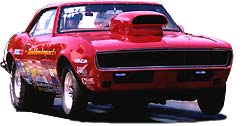 The car originally had a 350 and a 4-speed, but being tired of fixing it ever week, Ray quickly made the swap to automatic transmissions. Ray drove the car from 1984 to 1993, qualifying for every bracket finals in that range, and clinched his first New England Dragway Top ET championship in 1993. Mike started driving the car in 1995 and Brian took over behind the wheel in 1998. Mike started driving the car again in 2002 in NHRA Super Street competition and won the Division Championship that year. To date the car has won one National Event, three Divisionals and three National Opens.
Today the car is powered by Mike's 509" Chevy, prepared by Boucher's Racing Engines of Rowley, MA. The power is transferred through an ATI 8" Converter and a Select Performance Powerglide transmission to a Dana 60 rear end with 4.56:1 gears. 14.5x32" tires mounted on Weld Alumastar Wheels absorb all the horsepower in the back of the car.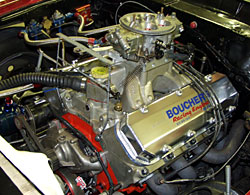 For electronics, the car is sporting a Biondo Racing Products Mega 400 Delay Box/Throttle Stop Controller powering a Biondo Outlaw shifter and #1 Stop Throttle Stop. The car has an MSD Ignition and MSD Crank Trigger.
In terms of performance, the car has run 8.91 @ 152 MPH out the back door, weighing in at 3000 lbs. On the throttle stop it has run as fast as 149 MPH at 10.90.