Sudden Impact VII - 2003 Chevy Cavalier Roadster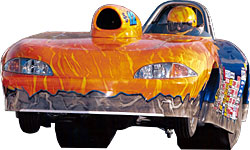 Mike purchased his Worthy Race Cars built 2003 Cavalier Roadster from Edmond Richardson in June of 2005. It is a purpose built Super Gas car, set up to cut the quickest reaction times possible and be consistent on the throttle stop. After the car was purchased, the driveline out of the '67 Camaro was installed for the 2005 and 2006 seasons.
Today the car is powered by a 565" Chevy, prepared by Boucher's Racing Engines of Rowley, MA. The power is transferred through a Select Performance 9" Converter and Powerglide transmission to a Ford 9" rear end with 4.30 gears. 17x33.5" Hoosier tires mounted on Weld Alumastar Wheels absorb all the horsepower in the back of the car.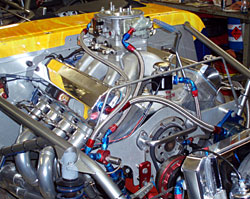 For electronics, the car is sporting a Dedenbear Command Center Delay Box/Throttle Stop Controller powering a Quarter Pro shifter and #1 Stop Throttle Stop. The car has an MSD Ignition and MSD Crank Trigger.
In terms of performance, with the old 532" motor, the car has run 8.32 @ 166 MPH out the back door, weighing in at 2500 lbs. On the throttle stop it has run as fast as 161 MPH at 9.90. with the 565" motor, the car has run 7.81 @ 175 MPH off the stop and 9.90 @ 170 on the throttle stop.
Since purchasing the car in 2005, the car has finished 2nd, 4th, 5th, 1st, 1st and 2nd in Division 1 Super Gas points, winning 5 divisionals in 10 finals, 3 National Events, and 2 Jeg's Allstars titles. The car finished #10 in the world in 2008 and #3 in 2009.