Ray Sawyer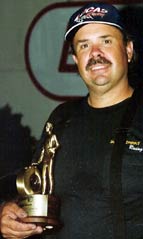 World Championships:
Division Championships:
Open Championships:
NHRA National Wins:
NHRA National R/U:
NHRA Divisional Wins:
NHRA Divisional R/U:
NHRA Nat. Open Wins:
NHRA Nat. Open R/U:
Jegs Allstars Qualifier:
NHRA Nat. Top 10:
NHRA Div. Top 10:
Track Championships:


1
1
1
3
5
7
2
4
1
1
2
6
2

A true veteran of the sport of drag racing, Ray always attended races with his friends as a teenager growing up. He took to the track once in the 1970's and won his class (G/Stock) in his only appearance. After starting a family and opening his business, he returned to racing in 1984 behind the wheel of the 1967 Camaro that he has since passed down to his two sons, Mike and Brian. Ray raced the 1967 Camaro until 1993 when his won his first New England Dragway Top ET (Super Pro) points championship. He purchased a 1987 Pontiac Firebird from Mike Marion for the 1994 Season. He transplanted the engine and transmission out of the old Camaro and stepped up from 9.70's to 9.20's. He raced the Pontiac through the 1999 season, capturing yet another New England Dragway Top ET Points Championship in 1998. He ran a best of 8.61 @ 155 in the Pontiac. For the 2000 season, Ray debuted a 2000 Camaro built by Dan Page Race Cars. The car has been a best ET of 7.82 @ 175 MPH. The car was updated to a 2002 Camaro for the 2003 season. In 2001, Ray won Super Gas at the NHRA Division 1 event at Lebanon Valley Dragway and at the National Open at Atco Raceway. In 2003, Ray won Super Gas at the Delmar Divisional and won the Dutch Classic National Open, capturing the 2003 National Open Series Championship. In 2004, Ray won Super Gas at Numidia Raceway on the way to finishing 8th in the NHRA Super Gas National Points Standings. In 2005, he went to two National Event finals and won his first NHRA National and Divisional Championships in Super Gas. In 2012 Ray added two more national event "Wallys" to the trophy case by winning races at Englishtown, NJ and the fall race at Charlotte, NC. For 2013 he debuted a new 615 cubic inch engine combination and in his first race took home the win at the Virginia divisional event.

Ray is the owner of Sawyer Automotive, a very successful automobile repair shop located in Acton, MA. He has been married for 35 years to his wife Denise.
---
Mike Sawyer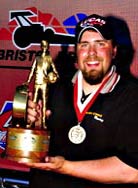 Division Championships:
NHRA National Wins:
NHRA National R/U:
NHRA Divisional Wins:
NHRA Divisional R/U:
NHRA Nat. Open Wins:
Jegs Allstars Wins:
Jegs Allstars Qual:
NHRA Nat. Top 10:
NHRA Div. Top 5:
IHRA National R/U:
IHRA Divisional R/U:


4
6
1
11
14
4
2
5
4
11
1
1

Ray and Denise's oldest son started his racing career back on August 18th, 1995; the exact day he received his driver's license. He began racing the family's 1967 Camaro, Sudden Impact I, and later purchased a 1967 Nova, which he raced in 1998, 1999, and 2000. Mike has found success in every level of racing he's competed in. In 2004, he won 2 Divisionals (Cecil County and Las Vegas), and the Lebanon Valley National Open. He won Super Street at 2003 NHRA Mac Tools Thunder Valley Nationals at Bristol, TN as well we the Delmar National Open and in 2002 was the NHRA Division 1 Super Street Champion. Mike was also runner-up at the 1998 IHRA North American Nationals in Super Rod, as well as the IHRA Divisional race at Epping, NH in 1999. Mike also has a Super Street Gamblers race win in Atco (2002) and a Super Street Top 8 win (2000) to his credit along with 4 VP Fuels ET Series race wins in his short career along with many gamblers races and 3 New England Dragway Major Event wins. In 1997, Mike finished 4th in New England Dragway Super Pro points. Mike is licensed to drive both doorcars/roadsters and dragsters, having a best ET of 7.80 with a high MPH of 175. In June of 2005, Mike purchased his 2003 Chevy Cavalier Roadster from Edmond Richardson and made the swap from Super Street to Super Gas and won his first Divisional in Super Gas at Cecil County, MD in September. He won his first National Event in Super Gas at the 2007 Jegs Northern Sportsnationals at Columbus, OH. In 2008, he picked up his second Divisional Championship, this time in Super Gas, and also won the prestigious Jegs Allstars Race. 2009 could be considered his best season to date. He won the LODRS Event at Maple Grove and followed it up two weeks later by "doubling-up" at Joliet, IL, winning the Jegs Allstars race for the second consecutive year and the next day winning the Route 66 Nationals. The double win gave him the Jegs Double Up Bonus. After adding on a few more rounds at the next points meet, he extended his round-win streak to 20 rounds. He finished 2009 with his second straight Division 1 Super Gas Championship and 3rd in the National points standings. 2011 was his best season yet with Mike winning the NHRA Supernationals in Englishtown, NJ and a month later "doubling" at the Lebanon Valley Divisional winning both Super Gas and Super Street. He later added three runner up finishes at divisional events to finish second in the national points standings. 2012 was another good season, adding divisional wins at Atco and Englishtown to runner-up finishes at Epping and Virginia to claim his fourth Division 1 Championship in dominating fashion. He also finished 6th in the National standings. The 2013 season is off to a great start as well, winning Super Gas at the 4-Wide Nationals in Charlotte, NC, the Maple Grove Divisional Race and the Inaugural NHRA National Event at New England Dragway, where he almost "doubled", by making the final in Super Street as well.

Mike graduated from Nichols College in Dudley, MA with a Bachelors Degree in Management Information Systems. In addition to working at Sawyer Automotive, he also runs his own business, Mike Sawyer Motorsports, where he works as a web developer. When not racing, Mike enjoys playing hockey and golf and is a Boston Bruins season ticket holder. He resides in Leominster, MA.
---
Brian Sawyer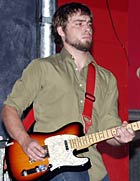 IHRA Divisional Wins:
NHRA Top 8 Wins:
Bracket Race Wins:


1
1
3

The younger of the two Sawyer brothers started his racing career just after receiving his driver's license in September of 1997. He began by driving the family's 1967 Camaro, the car that still has his name on it to this day. He has run a best ET of 9.13 at 148 Miles Per Hour in the Camaro and has captured an IHRA Divisional win in Hot Rod along with two New England Dragway VP Fuels ET Series wins in Top ET and one win in Street ET. He also has two semi-final finishes in NHRA Divisional competition and won the Super Street Top 8 race at Cecil County in 2001.

Brian stopped driving after the 2001 season to dedicate more time to finishing college and pursuing his dream. He has since graduated from Bentley College in Waltham, MA with a degree in Personal Finance. After working and living in Los Angeles, California for 10 years, Brian and his fiance Stacey have recently moved back to Maynard, MA and continue to be two of the teams's biggest supporters.